Summer Recipe
Cannelloni – with Old MacDonnell's Farm Goats Cheese
This would serve approx 4 people:
4 big fresh pasta sheets ( for lasagne)
Bunch/ generous fistful of fresh kale / spinach
2 cloves fresh crushed garlic
1/2 inch fresh red chilli ( optional )
4 big ripe juicy flavoursome plum/ beef tomatoes ( you can use a tin if preferred)
1 medium onion
1 tub – (+ half tub for roux if you fancy) Old MacDonnell's Farm Wicklow Mountain's plain or herb & garlic goat's cheese.
(the herb& garlic just gives richer flavour)
800mls/ pint and a half of roux sauce.
1. Make your Roux sauce-
a) over a moderate heat melt a knob of butter in a saucepan, sprinkle in x3 tablespoons of flour and and blend by mixing flour into butter- stay with it so it doesn't burn- you should get a glistening yet stiff (ish) paste. Take off heat.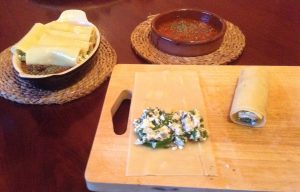 b) While off the heat, add in first bit of milk slowly whisking well.
c) Put back on the heat and continue adding milk bit by bit whisking all the time. It will look quite thick and tacky at first but keep whisking and as you add more milk it will thin out- keep whisking – gently now- and you will then see it thickening up forming a lovely creamy textured roux sauce.
You will add in total 800mls of milk
d) We add half a tub of the goat's cheese while making the roux ( for example instead of cheddar) and it gives an earthy saltiness to the sauce.
Set aside while you prepare the rest of the dish.
2. Cook the lasagne sheets for 2 mins, drain and then put in a bowl with a little olive oil to coat them – leave until you are ready fill them.
3.Lightly sauté the kale or spinach on the pan with half the garlic and chilli.
Take off the heat, cool slightly and mix/ mash the goat's cheese through.
4. In a separate pan sauté onion and remainder of garlic adding in tomatoes and cooking for 5 mins, season as you wish with sea/ rock salt and black pepper.
Spread this mixture into an oven dish and let sit for a few mins.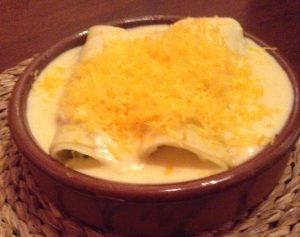 5. Take a lasagne sheet, lay it out on work surface and fill with the goats cheese mixture- be generous!! Then carefully roll up the sheet and place open end down on tomato mix in oven dish. Repeat with all sheets until you have your x4 cannellonis sitting side by side on a tomato bed. Then spoon the roux sauce ( you may have to give it whisk again to loosen it up) over the cannelloni – as much or as little as you fancy!!! – but do make sure to evenly cover the entire surface of the pasta which will ensure it stays moist.
6. Sprinkle crumbled goats cheese and/ or Parmesan over the top and bake in oven at 180 degrees Celsius for 10 mins , then reduce heat to 150 for a further 20mins- keep an eye on it as ovens vary- you want it to be slightly crisp and golden. You can also test with a skewer which should slip through cannelloni and come out piping hot!
Serve with a lovely fresh crispy tossed salad.